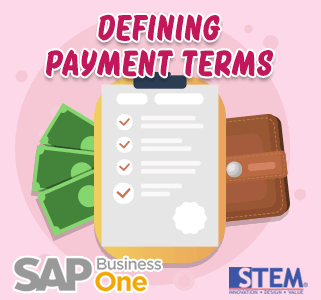 Payment terms represent typical agreements with you and your business partners. This apply to transactions with customers and vendors.
When a purchasing or sales document is created for a customer or vendor, SAP Business One will copy the information like payment period, price list, and total discount into the document. This information is used to calculate the due date of an invoice, prices of items, or the total discount allowed etc.
You can also change the payment term data manually in the transaction itself if a special agreement was made for that transaction. In addition, the information on the credit limit is copied from the payment term to the customer master record and then to the sales document and can be used for a credit check.
Go to Administration > Setup > Business Partners > Payment Terms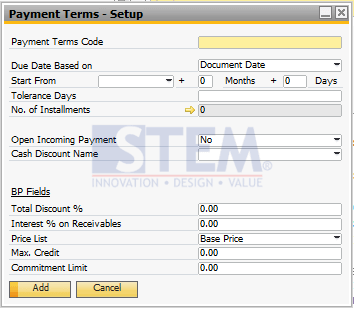 Fill all the information you need. For example:
Payment Terms Code: Specify code for the payment terms you create. This will appear in the dropdown list of defined payment terms.
Due Date Based On: Specify the value date of the invoice which you want to base the installment due date. Posting Date, System Date, or Document Date.
Start From: Specify when to initiate payment.
Tolerance Days: Specify the number of days to subtract from the calculated due date of the invoice.
No. of Installments: Number of Installment for the current payment
If you done, then click Add button. The new Payment Terms is created and will appear in the dropdown list of defined payment terms in the marketing documents.
Also read:
Most Viewed Posts