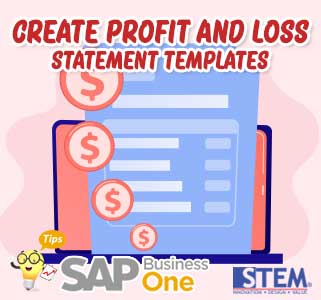 Since SAP version 9.3, the drawer on the chart of accounts consists of up to 10 drawers that can be used, and mostly drawers 9 and 10 are not used.
Even if not used, drawers 9 and 10 still appear on the profit and loss statement but are filled with no values.
If the user wants a profit and loss statement without drawers 9 and 10, they can create a new PL Statement template with the following steps :
Access the Financial menu > Financial Report Template
Choose the Profit and Loss report.
Select a template, and click define new.
Enter the desired PL template name.
Click Update.
Klik 'Generate Standard Chart of Account'.
After that, all listed charts of accounts will appear, then select drawer #9 and #10.
Right-click and highlight to 'Advanced'.
Select 'Delete account'.
Click 'Update'.
When finished, you can access the profit and loss statement report again, then select the PL statement template that was previously created, then 'Ok'.
After clicking OK, the report that appears will exclude the drawer or CoA which was removed when creating the profit and loss statement template.
Also read:
Most Viewed Posts