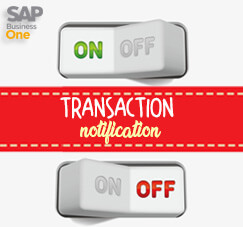 There's not many people who know about this "shortcut" on SAP Business One.
Usually, when using SAP Business One, you always make a custom validation with Transaction Notification to prevent some mistakes from user, or you just want to make some fields mandatory to be filled (not null).
With a conventional way, you make that validation on SAP HANA Studio or SQL Server Management Studio, execute and that will be activated on system.
But when you want to turn it off (disabled) temporarily? How to do that?
Modify the query for command, run alter procedure?
It's an old way.
There's an easier way to do that.
Open General Settings from Administration menu, choose tab "Services".
You only need to untick option "Enable Transaction Notification" for disabled or inactive Transaction Notification on SAP Business One, then click Update button to finalize it.
If you want to re-activate the validation on Transaction Notification, please tick again option "Enable Transaction Notification".
Also read:
Most Viewed Posts