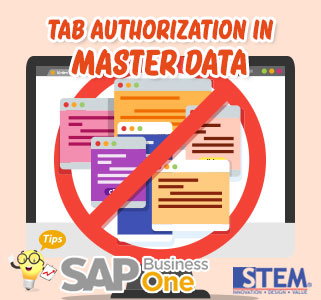 To provide more accurate authorization for each user based on the duties and responsibilities of each employee, we need to manage authorization from each user. Did you know that in SAP Business One version 10, we can provide more specific authorization on each tab in the item master data and Business Partner Master Data. So if the user does not have authorization for a tab, then the tab will be hidden automatically, or if only given read-only authorization, then the user can only see without being able to change the contents of that tab.
The ways that can be done to set the authorization per tab are as follows:
For example, this time we will hide the sales tab on the master data item from one or more users,
*Note: the sales tab that currently appears on that user's screen!
To hide it, go to menu Administration > System Initialization > Authorizations > General Authorizations
Click on the user you want to set the authorization, and in the subject column, go to Inventory > Item Master Data > Sales Tab. Change the authorization to "No Authorization", and then click "Update".
See the changes when the user open the item master data screen. The Sales tab is hidden for that user.
*Note: You need to be Super User to be able to set up this.
The benefits of managing this authorization for each tab:
It allows the granting of more accurate authorizations for each user, based on their respective duties and responsibilities.
Helps prevent human error and enhance data protection
Increase productivity
Also read:
Most Viewed Posts