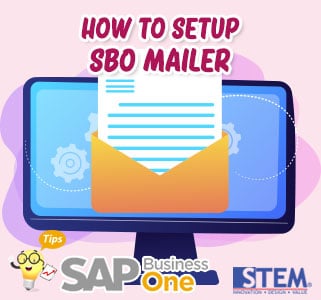 SAP Business One has a feature to send an email directly from within the application. For example, we can send an email directly to the Customer after we create the A / R Invoice document, or send an email to the Vendor after making the A / P Invoice document. To be able to use this feature, we must first set up the SBO Mailer Service.
Enter the SLD page via a browser.
After entering the window, select the Service Tab.
Click the link from the Job Service as shown below.
On the Job Service page, select the Settings Mailer Tab.
Fill in all fields with Email Server Credentials and click the Save button.
After changing Email Credentials, restart the Mailer Service by clicking the Stop button in the Status column and clicking the Start button afterward. Make sure the status is "Running" with a green light next to it.
To test the connection to the Mail Server whether it is connected or not, click the Test Connection button. If connected, a message will appear containing information that the result is OK. Apart from that, double-check the Email Credentials or Email Server.
We also have to set some settings in the SAP Business One application. Go to Administration > System Initialization > General Settings > Services Tab.
Check the options "Enable Mailer Service" and "Enable Company Specific Mailer Configuration" (to set different Email Credentials from the one we previously set on the SLD page or can be filled with the same Email Credentials). If the "Enable Company Specific Mailer Configuration" option is checked, fill in the Email Credentials field then click the Update button.
SBO Mailer setup is complete and we can use Mailer Service in the SAP Business One application.
*Note: This feature only available in SAP Business One 10
Also read:
Most Viewed Posts