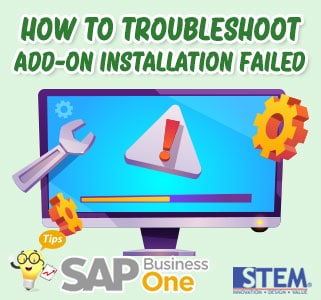 There are several ways to Troubleshooting Add-On Installation Failed. Here is one way to resolve this problem:
After an error Add-On Installation Failed appears, try to logout and exit from SAP Business One.
Make sure that there's no Add-On Service still running in Windows Task Manager. If there is, End-Task the running add-on.
Go to SAP Business One folder:
• "C:\Program Files (x86)\SAP\SAP Business One" if you use 32 bit Windows OS.
• "C:\Program Files\SAP\SAP Business One" if you use a 64 bit Windows OS.
Delete any files listed inside the AddOns folder.
Remove 2 .SBO files (AddOnsInstall.sbo and AddOnsLocalRegistration.sbo), If there's only one .SBO file, remove that file.
Make sure the windows user has full access to the SAP folder. You can check by right-clicking the SAP folder > choose Properties > choose the Security tab. If the user still doesn't have full access, click on Edit button > and give the full access right by giving checkmark on Full Control > click OK > click OK.
Remove the Temp folder, by pressing on keyboard Windows + R > fill in %temp% > click OK button.
The File Explorer window will open directly to the temp folder. Press CTRL + A > Delete the data as below> click Yes to confirm that we will delete the files > Windows will prompt you if there are any files still use by other programs, click Skip.
Run SAP Business One Client program as Administrator. To make it default, right-click on the SAP Business One Client shortcut > choose Properties > choose Compatibility tab > click Change Settings for all users > it will show new windows > Ticked Run this program as an administrator to activated > click OK > click OK.
Re-open the SAP Business One Client dan Login. SAP Business One will try to re-install the add-on.
Notes:
If an antivirus program thinks that the add-on you were trying to install as a virus, you have to exclude the SAP Folder. So the antivirus program will not scan the folder, and then repeat steps 1-9 above.
If you still experiencing a problem, you can try to remove the SAP folder that is located in the ProgramData folder (By default, this folder is hidden). See image below:

Make sure you have to go through steps 1 to 5 before you delete the SAP folder inside ProgramData. After that, continue with step 6 to 9.
Also read:
Most Viewed Posts