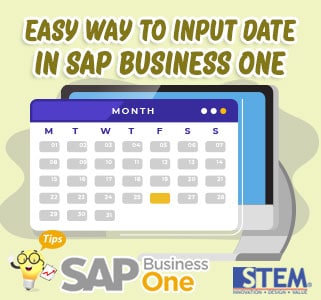 Starting with the SAP Business One 9.3 version, you can add several features that make it easier for you to enter dates.
Feature
You can use the up/down arrow button on the Keyboard to increase/decrease the date.
You can use command +/- to increase/decrease the date from the System date (Today's Date).
• +/-N: add/subtract N Day
• +/-ND: add/subtract N Day
• +/-NM: add/subtract N Month
• +/-NY: add/subtract N Year
Explanation :
N is replaced with a number as needed
Does not use spaces between +/- signs and numbers
D, M, Y are not case sensitive (D, M, Y can use upper / lower case)
Example:
If today is October 7, 2020, and you enter +10 in the date column, the date will change to October 17, 2020. As shown in the illustration below.
Now you can easily enter dates in SAP Business One, either when creating documents or when you want to view reports. Hope these tips can help.
Also read:
Most Viewed Posts