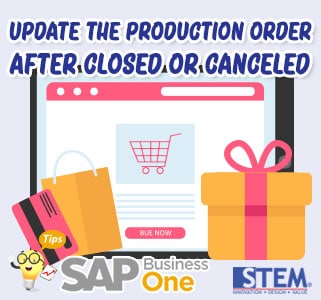 Production Order is one of the important documents in the manufacturing process. The document shows the list of material used, resources use, routings and etc.
If you need additional information that is not available in the standard SAP Business One production order screen, you can use User Defined Fields (UDF).
During the production process, this document can be updated. And when it's already closed or canceled, SAP Business One now provides the possibilities to edit some of the field, such as "Remarks", "Pick and Pack Remarks" on the form footer, Attachment, "Reference Document" on the "Summary" tab and User-Defined Fields.
But, before we can edit those fields, we have to make sure some things :
In the "Document Settings" menu, for Document "Production Order", set the "Allow Update of User-Defined Fields When Document Rows Are Not Editable" to active.
In the "Authorization" menu, under subject "Production" – "Production Order", set authorization "Update User-Defined Fields in Not Editable Rows" to the respective user.
This feature available in SAP Business One 10 FP 2008 and SAP Business One 10 FP 2008, version for SAP Hana.
Most Viewed Posts