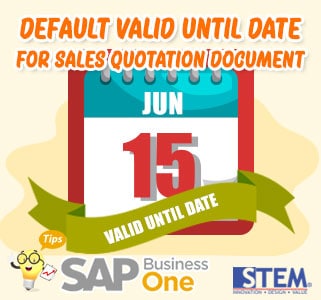 Sales Quotation simply is a document that allows a potential buyer/customer to view the price for goods or services. Besides the prices, there are also other terms and conditions in Sales Quotation such as discounts, etc. Usually, the price and discount provided also valid only for some certain time. If the valid time passes, the Sales Quotation with the price and discount will be expired.
Because of the importance of the Valid Until Date, Since SAP Business One 10.0 PL01 and SAP Business One 10.0, version for SAP HANA PL01, SAP Business One enables you to define the default value for field "Valid Until" date in the Sales Quotation.
You can go to: Administration > System Initialization > Document Settings.
Click tab "Per Document" and choose Sales Quotation document.
You can set the default value by different numbers of months, weeks, or days.
Click Update to save the changes.
And now if you create Sales Quotation, the Default value for the "Valid Until" date field is based on what you set on the Document Settings window.
If you don't set this up, the default value for the "Valid Until" field is 1 Month.
Also read:
Most Viewed Posts