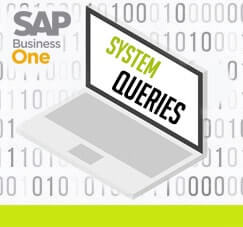 There's a lot of SAP Business One standard features that sometimes unknown for many people or forgotten.
Did you know that there's 66 'free queries' that provided for you as a standard feature of SAP Business One?
Yeah, that 66 queries, can be useful for various purposes, such as aging invoice, inventory stock positioning, total sales amount, etc.
You can use all of the system queries, please take a look first, decide it, which query will be useful for you. That's quick and better solution than starting over from 0 (zero) to make some query reports to analyze data.
Also read:
Please access on menu bar: SAP Business One Main Menu – Tools – Queries – System Queries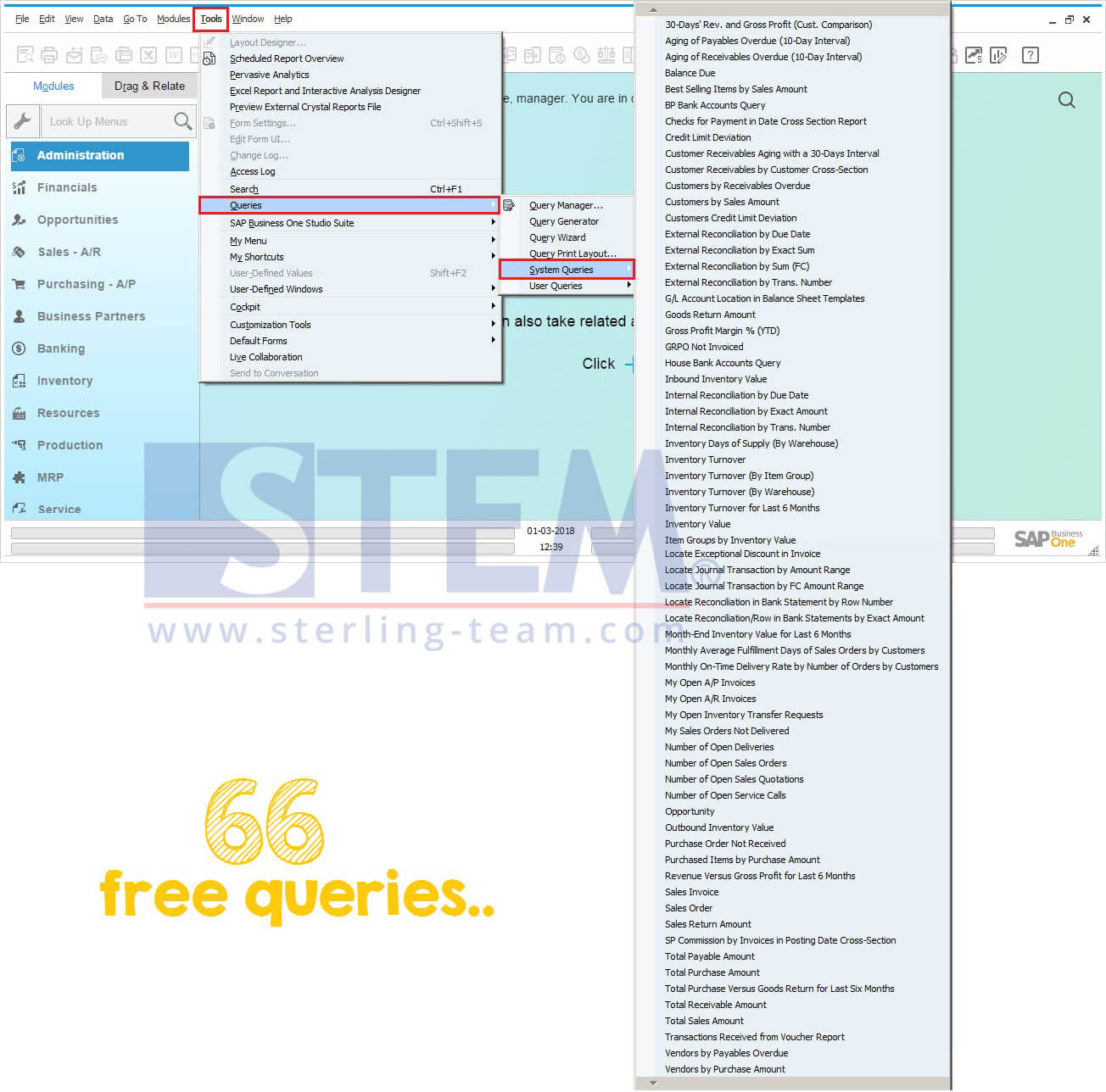 Here's full list of that system queries on standard SAP Business One:
| | |
| --- | --- |
| 1 | 30 Days' Rev. and Gross Profit (Customer Comparison) |
| 2 | Aging of Payables Overdue (10-Day Interval) |
| 3 | Aging of Receivable Overdue (10-Day Interval) |
| 4 | Balance Due |
| 5 | Best Selling Items by Sales Amount |
| 6 | BP Bank Accounts Query |
| 7 | Checks for Payment in Date Cross Section Report |
| 8 | Credit Limit Deviation |
| 9 | Customer Receivables Aging with a 30-Days Interval |
| 10 | Customer Receivables by Customer Cross-Section |
| 11 | Customers by Receivables Overdue |
| 12 | Customers by Sales Amount |
| 13 | Customers Credit Limit Deviation |
| 14 | External Reconciliation by Due Date |
| 15 | External Reconciliation by Exact Sum |
| 16 | External Reconciliation by Sum (FC) |
| 17 | External Reconciliation by Transaction Number |
| 18 | G/L Account Location in Balance Sheets Templates |
| 19 | Goods Return Amount |
| 20 | Gross Profit Margin % (Year to Date) |
| 21 | GRPO Not Invoiced |
| 22 | House Bank Accounts Query |
| 23 | Inbound Inventory Value |
| 24 | Internal Reconciliation by Due Date |
| 25 | Internal Reconciliation by Exact Amount |
| 26 | Internal Reconciliation by Transaction Number |
| 27 | Inventory Days of Supply (By Warehouse) |
| 28 | Inventory Turnover |
| 29 | Inventory Turnover (By Item Group) |
| 30 | Inventory Turnover (By Item Warehouse) |
| 31 | Inventory Turnover for Last 6 Months |
| 32 | Inventory Value |
| 33 | Item Groups by Inventory Value |
| 34 | Locate Exceptional Discount in Invoice |
| 35 | Locate Journal Transaction by Amount Range |
| 36 | Locate Journal Transaction by FC Amount Range |
| 37 | Locate Reconciliation in Bank Statement by Row Number |
| 38 | Locate Reconciliation/ Row in Bank Statements by Exact Amount |
| 39 | Month-End Inventory Value for Last 6 Months |
| 40 | Monthly Average Fulfillment Days of Sales Orders by Customers |
| 41 | Monthly On-Time Delivery Rate by Number of Orders by Customers |
| 42 | My Open A/P Invoice |
| 43 | My Open A/R Invoice |
| 44 | My Open Inventory Transfer Requests |
| 45 | My Sales Orders Not Delivered |
| 46 | Number of Open Deliveries |
| 47 | Number of Open Sales Orders |
| 48 | Number of Open Sales Quotations |
| 49 | Number of Open Service Calls |
| 50 | Opportunity |
| 51 | Outbound Inventory Value |
| 52 | Purchase Order Not Received |
| 53 | Purchased Items by Purchase Amount |
| 54 | Revenue Versus Gross Profit for Last 6 Months |
| 55 | Sales Invoice |
| 56 | Sales Order |
| 57 | Sales Return Amount |
| 58 | SP Commission by Invoices in Posting Date Cross-Section |
| 59 | Total Payable Amount |
| 60 | Total Purchase Amount |
| 61 | Total Purchase versus Goods Return for Last 6 Months |
| 62 | Total Receivables Amount |
| 63 | Total Sales Amount |
| 64 | Transactions Received from Voucher Report |
| 65 | Vendors by Payables Overdue |
| 66 | Vendors by Purchase Amount |
Note: On SAP Version 9.2 and above
Also read:
Most Viewed Posts