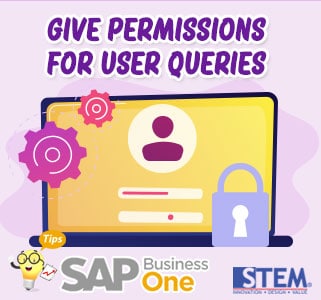 In SAP Business One, there is a way to view reports with user queries instead of the report form, and sometimes there are some users that cannot access the user query that has been saved. These are the following steps to give permissions to the saved user query.
If the user query has been created and saved, first define the user query into which query group.
Go to the Tools menu → Query → Query Manager.
Click on Manage Categories.
Choose the query group that was previously created.
Click the Assign Group button.
Then select the number saved query group, for this case the selected case is selected in a Saved Queries – Group No. 12.
then click the  button.
After the second step is performed, this step provided access rights for the specified query group. Go to Administration menu → System Initialization → Authorization → General Authorization.
Select the user who wants to be restricted cannot access the 'STEM_SALES' Group Query.
Select the subject Reports → Query Generator.
Select the query specified in the previous point, namely the Saved Queries – Group No.12.
then give No Authorization.
Click the  button.
By doing this, when accessing the User Query, the query group 'STEM_SALES' will not appear, because the access rights are not given to that user.
Most Viewed Posts