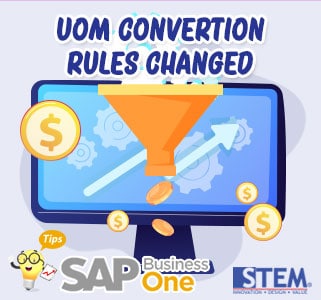 You know how complicated it is to manage your inventory. Now, let's look at the item defined by the unit of measurement (UoM).
The item has a number, size, and packaging combination and then there are dependencies. For example, the small box contains 10 items, the medium box contains three small boxes, traveler pack contains four items.
Pricing usually reflects the unit of measure (UoM) and is often derived from the base unit price. But what happens to prices when changing the conversion rule of the unit of measure (UoM)?
If the little box mentioned above, currently contains only six items instead of 10 items, will the price be reduced by 40% from the base price? Well, SAP Business One allows us to choose an answer to this question:
On the SAP Business One main menu, go to Administration menu → System Initialization → General Settings.
Select the Pricing Tab.
In the When UoM Conversion Rules Change field, select the Update UoM Prices Accordingly.
Press the  button.
With these setting, can choose whether to remove the UoM prices, update the UoM prices accordingly (selected by default), keep corresponding UoM prices unchanged, or keep all UoM process unchanged.
Also read:
Most Viewed Posts