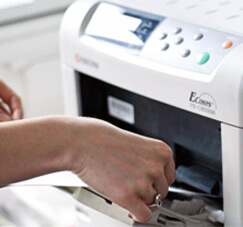 Sometimes when doing your routine, it'll consume a lot of paper and you need to re-organize all of that paper. SAP Business One enables you to print or send by mail a pre-defined sequence of documents. For example, if the sales process consists of the document chain quotation – sales order – delivery – invoice, you can define the respective sequence and when printing the invoice you can choose to print the entire chain in one click. This way, your customer receives all the documents related to a certain deal and at the same time you can file it all together in your end.
Also read:
For example, you want to print Invoice along with Sales Order & Delivery Order.
On menu Administration → Setup → General → Report and Layout Manager.
Select AR Invoice (Items) on List Tab. Click on the Printing Seqs

Then, click New button, click on drop down menu to choose any of object that you want to assign to that sequence. Choose Deliveries. Choose the layout and fill the amount of copies that you want. And after finished, click Add.

Now you can easily edit, delete, add or update any of the sequence details based on your own preferences.

On your sales documents, there's AR Invoice that you want to print, open it, and select Print Sequence option on File at menu bar.

You can select one of the sequence template. Or you can click Preview layout before execute print option.
If there's a pop up question "Do you want to set the print format for all selected invoices?" just click on Yes button. Just to make sure that you already choose the correct option for printout format to all documents (refer to step 2)
Then you can choose the printing option:

Invoice only, or
Invoice + Payment, or
Invoice and Payment in Succession

And your document will be printed based on the sequence details of your choice.
Also read:
Most Viewed Posts