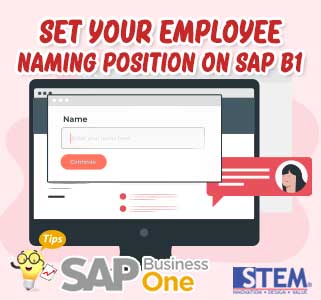 Did you know SAP Business One has a Name Positioning function?
This function allows you to specify the display mode of employee names in SAP Business One. For example, Requester Name on Purchase Request or owner name on marketing documents.
Available options:
Last Name, First Name: which is displayed first is the last name then the first name.

Display Comma: displayed using a comma (,) or not.

First Name, Last Name: which is displayed first is the first name then the last name.

Display Middle Name: middle name can be displayed or not.
To know how to set employee name display mode in SAP Business One, follow these Steps:
On the SAP Business One main menu, select the Human Resources menu > Employee Master Data.
Find the name of the employee whose name will display mode (If it doesn't exist, you can add a new employee name)
Select the Administration tab
Define employee name display mode
Click Update
The following is the result of setting Naming Position employee name.
Note: Available in SAP Business One 10.0 FP 2108 and SAP Business One 10.0 FP 2108, version for SAP HANA
Also read:
Most Viewed Posts