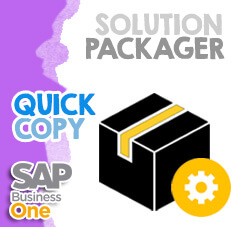 As an experienced implementor of SAP Business One, we want to let you know about an easier way to create a new company on SAP Business One with less efforts and minimum time consumption.
MAIN FOCUS:
You want to create a new database for a new branch company.
A 'traditional' way is creating a new company from new configuration, manually one by one configuring the details and matching it with previous (main) database, but there's 2 powerful tools from SAP Business One for help you.
What's a Solution Packager?
Solution Packager is one of the implementation tools provided in the Implementation Center for creating new branch/store companies from existing company. To launch this tool, choose Administration > System Initialization > Implementation Center > Implementation Task.
Or using a quick launch from your desktop, with click Start > All Programs menu
Also read:
What's the differences?
Check out this table below, all of the basic differences:
Quick Copy: more often use to select and copy data objects from one company database to another database (existing company database).
Solution Packager: more often use for designed a complete package solution including company details configuration on a database. A Partner can also directly restore a package (file .pak) as a new company after renaming it. You can choose, on that package will include the master data or just an empty tables.
All of the 2 features will automatically check the data dependencies between all of the config data (setup), and also the master data.
But, there's still a LIMITATION (*).
The total size of the SAP Business One and external database combine CAN'T exceed 2 GIGABYTES.
You can also try to using another SAP Business One feature "Data Archiving" to reduce the size of the database before creating a new company DB from that existing company DB.
Also read:
Most Viewed Posts