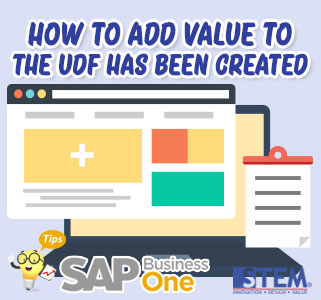 SHARE ON
As we all know, SAP Business One provides a feature to let us insert/add a field into the system easily. In this article, we will explain how to Add Value to the UDF that was made before.
Here are the steps:
Search in the Search Menu User-Defined Fields – Management
Look for the UDF that you have made before and want to add a value and press Update.
If you have previously set the Validation to Valid Values, the next step is to press the 'New' button next to the table
input the Value and Description you want to add
If you have never been before and want to add value, just change the Validation to Valid Value and add the Value and Description in the table provided.
When finished, press the OK Button → then press Yes Button
A warning message will pop up if there is a user is connected to the company database. Make sure there's no transaction is in progress. If it's all clear, you can click the 'Try Again' and 'Ignore' button to continue with the update.
Most Viewed Posts