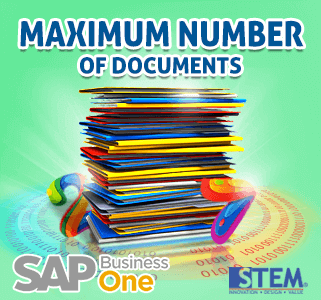 With SAP Business One, did you know that you can set a limit for maximum number of documents in payment (incoming/ outgoing)?
In case, your company's policy don't allow it a multiple invoice paid with one payment document, this will be a perfect option for you.
Otherwise, you can also set a specific number (more than 1), so, user can process multiple payments for more than one invoice.
Let's see, when we create Outgoing Payment document with 2 rows as details, we get a red notification error "Number of documents in payment is greater than maximum defined [Message 3524-45]"
That's an error caused by a limit (number) that we already set on Document Setting, we already state that "No. of Document in Payment" is only 1 (one document). So if we want to create 2 documents together, change the setting, if not, that won't post anything, only gets an error.
This is how to set that "rules" for maximum number:
Open menu Administration > System Initialization > Document Settings
Open per Document tab, choose document "Outgoing Payment" from drop-down menu
You can input a specific number as maximum number of documents can processed in one payment transaction.
For option "Split BP/Account in Journal Entry", you can read more details on this article here
Scroll down and click Update button when finish.
Most Viewed Posts