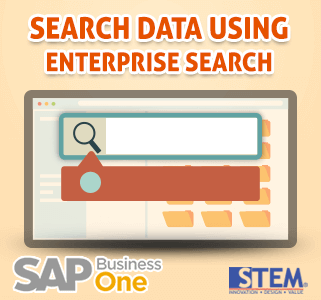 Enterprise Search can not only be used to search for menus, but users can also use Enterprise Search as a tool to find data.
Users can also search for things like (Description, amount, remark, etc.) of each business object in SAP Business One. Enterprise Search supports several business object types and business objects such as:
Master Data

Bin Location
Business Partner
Chart of Accounts
Contact
Employee Master Data
Item

Analytic Content, including Crystal reports and dashboards based on the SAP HANA database
A/R Transaction

A/R Credit Memo
Sales A/R Down Payment Invoice
Sales A/R Down Payment Request
Sales A/R Invoice
Sales A/R Reserve Invoice
Sales Delivery
Sales Order
Sales Quotation
Sales Return

A/P Transaction

A/P Credit Memo
A/P Invoice
A/P Reserve Invoice
Goods Receipt PO
Goods Return
Purchase Order
Purchase Quotation

Inventory

Inventory Goods Issue
Inventory Goods Receipt
Inventory Transfer

Service

Activity
Knowledge Base
Service Call

Sales Opportunity
Production

Bill of Materials
Issue for Production
Production Order
Receipt from Production

Banking

Incoming Payment
Outgoing Payment
User Defined Object
---
If you want to search for data using the Enterprise Search, just click the box like in the picture below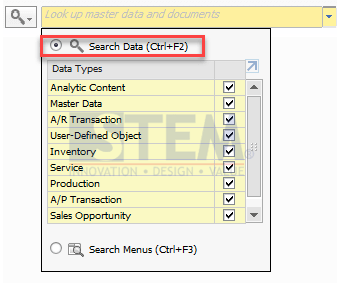 Then you just type the desired data, for example the user wants to see an item in the master data item, the user can check the data types "Master Data" and type the item code or item description, like this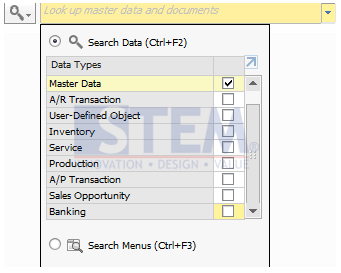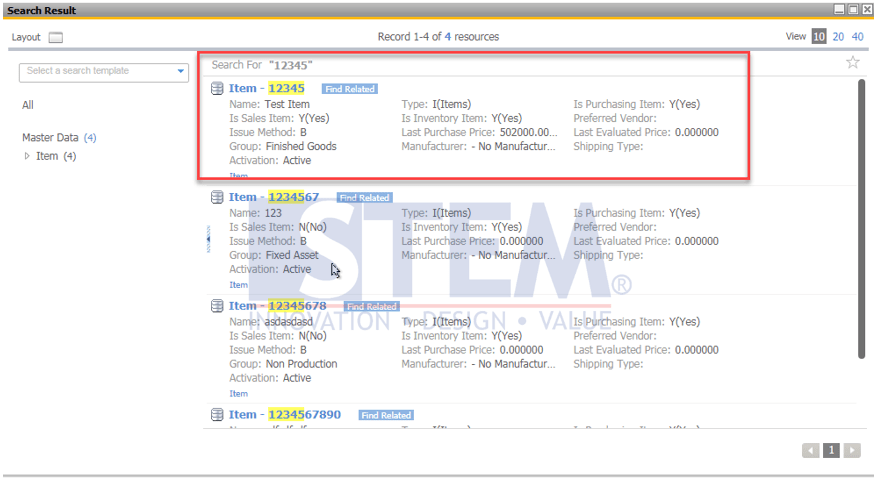 And when you press the item code, you will go directly to the Item Data Master menu with the item code.
* available for SAP Business One version for SAP HANA
Also read:
Most Viewed Posts