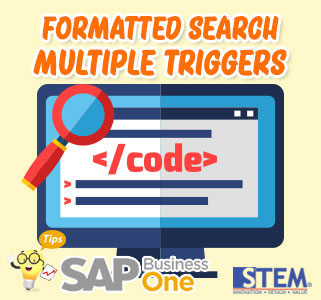 User-Defined Value, usually called a formatted search, has been existed since SAP Business One 2007 and many people still use it for quick customizing solutions for their business process needs.
This feature is very useful when users need to automatically fill in one column field on the SAP screen, based on one or several other columns' values or calculation formula. Until SAP Business One version 9.3, to trigger this automation, the user can only determine one column as a trigger.
Now, in SAP Business One 10, the user can determine more than one column to trigger this feature.
For example, to calculate volume, we need 4 columns: Length, Width, Height, and Volume Result.
We can create a simple formula to calculate this in a query:
SELECT $[$38.U_Length.Number] * $[$38.U_Width.Number] * $[$38.U_Height.Number] AS "Volume" FROM DUMMY
and saved it in User Queries.
On the U_Volume column, activate User-Defined Values by pressing ALT+SHIFT+F2, and choose "Search in Existing User-Defined Values according to Saved Query", then choose your saved query.
Checkmark "Auto Refresh" and choose "When Exiting Altered Columns".
On the "Field" column, choose Length, Width, Height columns as triggers.
Now, your Volume column will be automatically calculated when you change values on Length, Width, and Height columns.
Note: Valid for SAP Business One 10, SAP Business One 10 version for HANA
Most Viewed Posts