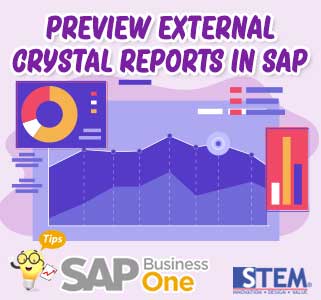 SAP Business One provides standard reports that provide informative and structured information as part of its core functionality. However, sometimes companies needs additional information that is not covered in the standard reports provided by SAP Business One. Therefore, there is a demand for reports that can be modified to suit the company's specific needs. This modification report is usually in the form of an external crystal report file which is later imported into the SAP system. However, if there are a large number of templates in these external files, the import process may take longer and require more effort. Did you know, in SAP Business One we can see a preview of the external crystal report file without needing to import it?
Want to know how? Please follow the following guide.
Click the Tools menu, then select Preview External Crystal Reports File.

Select the crystal reports file by pressing the button in the red box.

Click OK.
Also read:
Most Viewed Posts