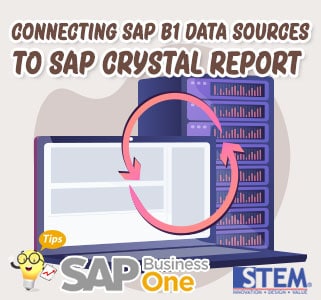 If you want to create the Crystal Report & Layout in SAP you must Connect the SAP B1 Data Sources to Crystal Report.
Here are the steps :
On the SAP Crystal Reports start page, choose Blank report.
To create a report with a wizard, choose Report wizard instead of Blank report and enter the required information. For information about the standard report creation wizard, see the SAP Crystal Reports online help.
In the Database Expert window, in the Available Data Sources pane on the left side of the screen, create a new SAP Business One connection.
In the course of creating or modifying a report, you can open the database expert by choosing Database → Database Expert in the menu bar.
In the SAP Business One window, enter the required information and choose the Finish button.
In the Database Expert window, in the Available Data Sources pane, under the B1 Tables node, select one or more tables and move the selected tables to the Selected Tables pane using the Add (>) arrow button.
The 13 UDT folder stores the tables of SAP add-ons. The 15 External Tables folder stores the tables of third-party add-ons. You can view the descriptions of the SAP Business One tables in the data source shown above. For more information, see Viewing Table Information in SAP Business One Data Source. For information about SAP Business One database tables, see the SDK_EN.CHM file on the SAP Business One product DVD or in the download package.
Press the OK button.
If you have selected more than one table, the Links tab appears and displays the selected tables and their relationships. Press the OK button to exit the database expert.
If you select more than one table on which to base a new report, a foreign key relationship is automatically created between the tables. If you have connected to a different data source than an SAP Business One data source, select from all available tables by choosing <connected database> → dbo → Tables.
The new report will appear in Design view in a new tab in the work area.
To open the Preview tab for a quick view of your report, in the menu bar, choose View → Print Preview.
The Preview tab appears next to the Design tab in the work area.
Also read:
Most Viewed Posts