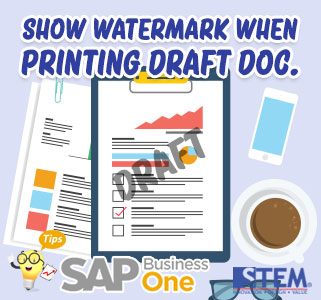 SHARE ON
When we first print a document in SAP Business One, some users ask "How to show watermark in printed draft document?". This watermark will help user identify if the printed document is still a draft and not yet final.
These are the steps to activate watermark when previewing/printing draft document:
Go to Administration -> System Initialization -> Print Preferences

Print preferences screen will pop up
Go to "General" tab, and checked Print Draft Watermark on Draft Documents option.
Lalu click tombol Update
If "Print Draft Watermark on Draft Documents" option is checked, everytime we do preview or print draft document, SAP Business One will show a "Draft" watermark in the preview or print result.
Most Viewed Posts