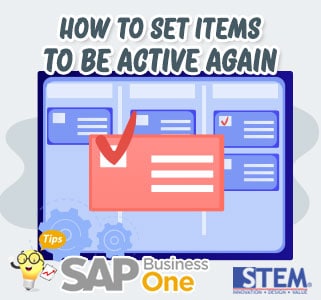 In SAP Business One, it allows you to make the existing Item Master Data become inactive. This is because it has not been used or has not been bought/sold within the specified time. But what if that inactive item is allowed to be bought/sold, but is still in an inactive status? In SAP Business One, you can activate these items manually.
How to do this?
On the SAP Business One main menu, select Inventory > Item Master Data or in the search field type Item Master Data.
Open the item that will be reactivated, then select the Active button to activate the item for purchase/sales transactions.
Click Update.
Item Master Data has been active again. You can make transactions using these items.
Also read:
Most Viewed Posts