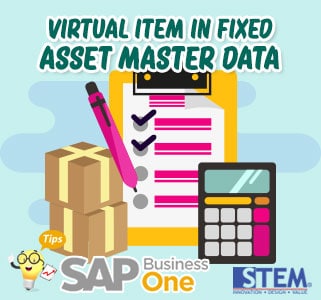 As an accountant in an existing company, of course, you need to record all assets owned by the company where you work. For example, the company will purchase several cellular phones for company employees that will be used for internal company use. Now you will record the cellular phone in Asset Master Data.
To record multiple identical phones in large numbers, you need to create virtual Items that represent these assets by:
Enter information about the Asset Master Data to be saved.
Checked Virtual Item Checkbox (Virtual Item checkbox is only available if you use the Document Series for Asset Master Data)
Specify the Document Series in Document Numbering > Items.
Then use the series in the Asset Master Data to create a Virtual Master Asset.
If you want to post an A/P Invoice to record the 5 cellular phones that the company purchased, when you created an A/P Invoice for a purchased cellphone, you must select the Virtual Asset item that was created earlier.
After the item is selected, determine the number of Cell Phones purchased in the Quantity column and the price per unit in the Unit Price column.
If you want to define the serial number of each Asset, in the A/P Invoice window, right-click on the virtual item that has been selected > select Asset Serial Number.
Enter the Serial Number of Each Cell Phone in the Asset Serial Number – Setup window > click OK.
After the A/P Invoice has been successfully created, the capitalization document and also the Cellular Phone Data Master Assets are automatically created. Please check by right-clicking on the Blank Area on the A/P Invoice that you have created > click on Relationship Map.
Here you can see the relation between the Capitalization document from the previous A/P Invoice, to open the document, Double Click on the box.
Following the Capitalization Document which is formed automatically. To see the Asset Master data formed, click on each golden arrow in Asset No.
The following Data master assets are automatically formed.
Notes:
Information on Master Data Asset in Virtual Fixed Asset is copied to the newly formed Master Data Asset, except for the Virtual Item checkbox that we previously selected, but not selected for the newly formed Asset.
Each Asset Master Data will include the serial number that you enter in the A/P Invoice.
Also read:
Most Viewed Posts