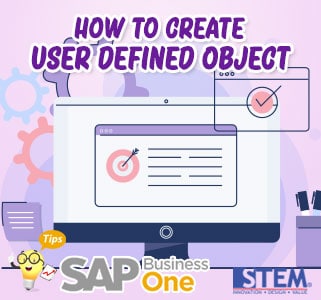 UDO (User Defined Object) function is to add new objects to SAP Business One so that you can customize it yourself to add new objects that are not yet in the SAP Business One standard. You can create 2 types of objects, namely Master Data and Document. Master Data for example such as Business Partners, Master Data Items, etc. While Documents such as A / R Invoice, Delivery, Goods Receipt PO, etc. UDO already has various SAP Business One standard functions to create a Default Form, so it does not require the addition of Add-Ons to add simple objects.
Here is how to create UDO (User Defined Object):
Enter to Tools menu > Customization Tools > Objects Registration Wizard.

The User Defined Objects window will appear and then click Next.
Select Add a New Object, then click Next.
Fill in the Unique ID UDO name, The name can be anything without spaces because if there are spaces, it will experience problems when uploading DTW > select the UDO type, Master Data or Document > select the table/User Defined Table (UDT) that have been created > click Next.
For example STEM_KUALITASH.
on the setting service, adjust to your needs > click Next.
This new object will be able to be used to find, delete, and cancel the logging.
create the Default Form and Menu which will display the position were for this new object > click Next.
Examples like the following will be made Default Form Header Line Style and Menu Item under parent Menu ID 3072 (Inventory) with position no. 2.
Setting any field to display in the default form, then click Next.
Select the Tabel Child (Detail) if any > click Next.
Set the Field you want to display from Child (Detail)  table > click Next.
After that click Finish > click Finish again.
the menu will be created automatically according to the place that we have set before.
Here is an example of the Default Form that we generate through UDO:
Also read:
Most Viewed Posts