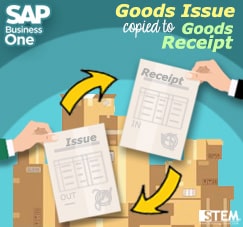 As one of the newest feature from SAP Business One 9.3, now SAP already gives us facilitate to simplify process for create goods receipt and goods issue. This could be a quicker solution for transferring stocks between your warehouses.
Now you can create goods issue then create goods receipt copied from your previous goods issue, or vice versa. This is how to do that:
Create Goods Issue for all of the items to be released from the warehouse
Open again your Goods Issue document, then click Copy To button on the right bottom side of your window, that will be a "Good Receipt" option.
After that, you'll be get a new pop up screen, that's your Goods Receipt screen's menu.

If you see, all of the document rows will be exactly same with your previous Goods Issue rows. Then, you can save your document.

Now you already have 2 transfer 00stock documents linked each other.
It's easier than before right 🙂
Also read:
Most Viewed Posts