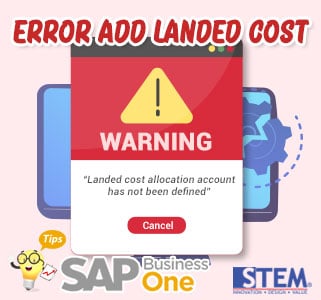 In companies that purchase imported goods, it requires recording the value other than the price of the purchased item, such as import taxes, handling at the port, insurance, and others. In SAP, the input of the value uses the landed cost document. Sometimes when a user creates a landed cost document, there is an error with the message 'landed cost allocation account has not been defined'.
One of the messages that appear is because there are landed cost components that have not been filled in by accounts to accommodate the value of each landed cost component.
Follow the steps below for the solution.
On the main menu of SAP Business One, select Administration > Setup > Purchasing > Landed Cost.
The Landed Cost window will appear.
In the column 'Landed Cost Alloc. Accounts' make sure all the accounts are filled. If there is something that has not been filled in, it can be filled first according to the account used.
Click 'Update'.
Re-create the landed cost document, the previous error no longer appears.
Also read:
Most Viewed Posts