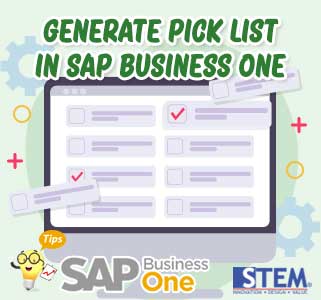 Pick List is a document that contains a list of items to be taken from the warehouse for further packing and shipping. In SAP, you can create a pick list directly from related documents with just a click. Here are the steps that need to be done.
Open the document you want to make a pick list. In this example using a Sales Order that was created before.
Right-click on the Sales Order view and select Generate Pick List.

The Pick List document will be generated automatically with the status Released. Click on the Pick All button to do the picking.

The Pick List status will change to Picked and the Picked column will be filled with the quantity contained in the Sales Order document. Click the Update button to save the picking process.

Note: Available since SAP Business One 9.1
Also read:
Most Viewed Posts