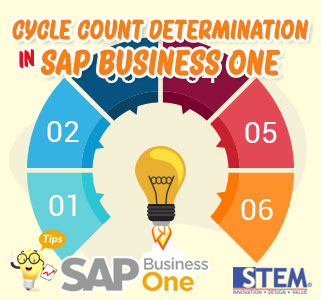 Cycle Count Determination is used to determine the cycle of calculation of goods carried out in SAP Business One. This cycle is carried out based on specified categories such as cycle calculation based on Item Group or if you use Bin Location Management then the Inventory Cycle category can use the Warehouse Sublevel. If done, you can make Cycle Count Determination.
From the SAP Business One Main Menu, choose Administration > Setup > Inventory > Cycle Count Determination. The Cycle Count Determination – Setup window will appear with a list of all warehouses.
In the Cycle By column, select whether you want a warehouse to be cycle counted by item group or by a certain warehouse sublevel.
Double-click a row to open the window for setting up cycle count determination for a specific warehouse.
In the Cycle Code column, choose a cycle code.
In the Alert column, check if you want to send an alert notification.
In the User column, select the users to whom you want the alerts to be sent.
Note: You can view the alerts that are sent to you in the Messages/Alerts Overview window.
Also read:
Most Viewed Posts