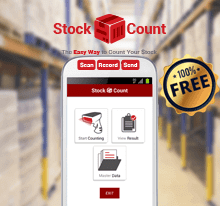 Do you currently have problems with Stock/Inventory accuracy and take days when doing your weekly, monthly or yearly stock counting & checking (physical inventory / cycle count) in your Retail Store or in your Warehouse?
Stock Count (Stock Take) is a FREE Stock counting & checking apps for Android mobile phones.
DOWNLOAD FREE on Google PLAYSTORE:
https://play.google.com/store/apps/details?id=com.sterling.stockcount&hl=en
iREAP Stock Count (Stock Take)
– Introduction To iREAP Stock Count https://youtu.be/V_iJi8bOD20
– Master Data Preparation https://youtu.be/MMnwCu2bHJk
– Scanning Process – https://youtu.be/kY8Bd9T9h-0
– View and Share Result – https://youtu.be/-mCFIgxyAq8
Use your mobile android phone and barcode scanner to help you perform the stock physical inventory and cycle count fast, effectively and efficiently anytime anywhere.
This is a TOTALLY FREE Stock Checking Apps from www.sterling-team.com as our CSR (Corporate Social Responsibility) program
* NO LIMITATION on PRODUCT and TRANSACTION *
* NO ADVERTISEMENT *
Available in English and Bahasa Indonesian
Detail Information and Help please visit https://www.sterling-team.com/stock-take-count
– Connect a barcode scanner to the mobile phone.
– Scan the barcode on your product using any barcode scaner or bluetooth scanner, and the application will help you count the quantity and manage the list of your inventory.
– Capable of creating multiple counting session, so you can manage and compare the result easily.
– Support master data upload by using CSV file (Optional), to help validate the list of valid items in your scan list.
– Send the physical inventory counting result to your email easily.
– Offline: All your Stock Count / Stock Take data stored locally on your device, to support Fast scan and validation, thus No Internet connection needed during Stock Counting process
Developed by Sterling Team
http://www.sterling-team.com
SAP Business One GOLD Partner Indonesia to industry Retail, Distribution and Manufacturing
Most Viewed Posts