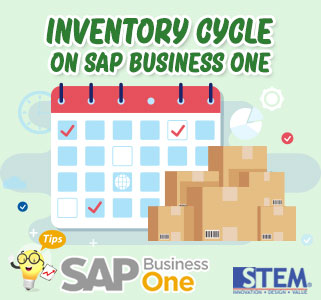 Inventory Cycle on SAP Business One can help you to track Inventory Counting ( Stock Count ) by receiving an alert when it is time to do an inventory calculation.
You can specify cycles to carry out inventory counting such as daily, weekly, monthly, or yearly.
Below are the steps to configure the Cycle Count:
On SAP Business One Main Menu, select Administration →Setup → Inventory → Inventory Cycles.
Determine the Cycle Code to define the frequency of the cycle count.
Determine the Recurrence to define the frequency used for the cycle count (daily, weekly, monthly, annual).
The system will automatically suggest the date and time.
Specify the End date.
Press the Add button.
When the time for inventory counting arrives, the system in SAP Business One will display Messages / Alerts to do Inventory Counting.
The person in charge will receive Messages/Alerts in their inbox when it comes time to do inventory counting.
Note: Determine the Item Group and Warehouse that will do inventory counting on the Cycle Count Determination.
Most Viewed Posts