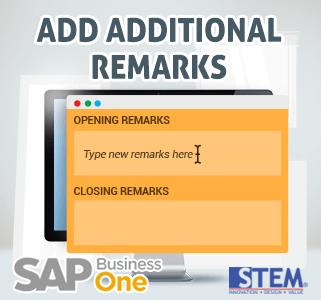 SHARE ON
In SAP Business One Sometimes when we create a document, we often want to add additional information to the document. However, the information provided is information that is generally outside of the document remarks. Here's how to add additional remarks to a document (the following example uses the purchase order document):
Select Purchasing – A / P> Purchase Order

Input data that needs to be inputted

In an empty area in SAP B1, right click on the mouse will appear




---

---

Select Opening and Closing Remarks

Then it will appear as shown below:




---

---

Enter Opening and Closing Remarks

Select Add
So when the document is opened again and then the opening and closing remarks are re-opened, the remarks information that has been made is available.
Most Viewed Posts