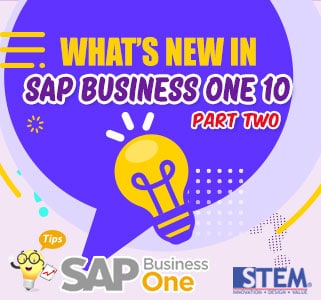 In the previous article about What's New in SAP Business One Version 10 – Part 1, we have shown the new functions, features, and benefits in Web Client, Usability, and Financial Management.
In this part of What's New in SAP Business One Version 10, we will inform the new functions, features, and benefits in Administration and Sales – Purchasing – Services.
ADMINISTRATION
EXPIRATION DATE

Previously, customers knew their support expiration date with SAP through their partners. As of release 10.0, this information is available and transparent to customers directly from SAP.
Feature & Benefit :

The information Support Expiration Date is shown in the About SAP Business One window.
Simplifies support by having the necessary information available on one screen.

ENHANCEMENTS IN DOCUMENT PRINTING

Feature & Benefit :

The selection criteria for document printing is enriched with additional options according to the selected document type
Form Settings window is added to the "Print <document>" window allowing the user to customize the column display
The "Print <document>" window now supports table sorting and filtering
The enhanced selection criteria enable you to optimize batch printing
Increased usability and productivity especially when printing a high number of documents
You can print and mail multiple service calls or service contracts at a time.
REFERENCED DOCUMENT ENHANCEMENTS

Feature & Benefit :

You are now able to reference documents in Checks For Payment, Recurring Posting, Purchase Request, Goods Receipt & Issue, Inventory Transfer Request, and Inventory Transfer
You can see the number of reference documents of a document from the indicator next to the Referenced Document button
Automatic referenced document creation from applicable marketing documents
Recurring Postings can be referenced to a single document. This document contains a reference to each recurring posting created. The reference by tab displays then the cross-referencing to the recurring posting itself.
Module-sorted list of documents to reference
SUPPORT ATTACHMENTS TAB IN ADDITIONAL OBJECTS

Feature & Benefit :

You can now manage attachments through the Attachments tab in the following windows:

Inventory Counting
Production Order
Deposit
Incoming Payment
Outgoing Payment
Inventory Posting
Inventory Opening Balance
Checks for Payments
Time Sheet
Journal Entry

*Due to the addition of the Attachments tab, the Contents tab now holds the original details of the form/General tab
Support managing attachments for additional objects and streamline system behavior
FIELD LENGTH INCREASE

Feature & Benefit :

Customer Group Name and Supplier Group Name may contain up to 100 characters
The Item Group Name also supports 100 characters
More flexibility for the values entered in these fields
Standardization of product field definitions

ENHANCEMENT IN APPROVAL PROCESS

Feature & Benefit :

The new setting enables approvers to update the draft document in Pending status
Last Updated By and Last Updated On fields are now available within the Request for Generation Approval form
Approval Status Report now contains Draft Updated By, Draft Update Date, Draft Update Time, and Draft Remarks fields
Both the authorizer and the originator can add the document for approval
Minimizes unnecessary back and forth between authorizer and originator
Simplifies approval procedures and adds even more flexibility

TAB-LEVEL AUTHORIZATIONS IN MASTER DATA RECORDS

You can now define different access rights to different tabs in the Item Master Data and Business Partner Master Data windows for your users or user groups.
Feature & Benefit :

Different authorizations can be granted to different tabs in Business Partner Master Data and Item Master Data
If a user has no authorization for a given tab, this tab will be automatically hidden
Enables the granting of more accurate authorizations to each user, based on tasks and responsibilities
Helps to prevent human errors and increases data protection
Increases productivity

Learn from PT. BANDO INDONESIA on how they Use SAP HANA database to support their SAP Business One ERP.
Click HERE for More information about How SAP Business One version HANA, leverage the SAP HANA powerful database in real-life business ERP application with us PT. Sterling Tulus Cemerlang as SAP Gold Partner in Indonesia.
SALES – PURCHASING – SERVICES
BACKORDER REPORT ENHANCEMENTS

Feature & Benefit :

Backorder Report now displays A/R Reserve Invoices with payment status Fully Paid, Partially Paid, and Not Paid
Reserve Invoice Payment Status is included within the Filter Table
All A/R Reserve Invoices are visible within the Backorder Report

PRINTING SERVICE CALLS & CONTRACTS

Feature & Benefit :

Print Preferences are now available for both Service Calls and Service Contracts
Document Printing includes Service Calls and Service Contract allowing for bulk document distribution
Preference settings on Service Calls and Service Contract printing/emailing
Bulk processing of service calls and service contracts

HIDE BLANK LINES IN ADDRESSES

You can now hide empty address lines while setting up address formats, thus providing a more concise address in documents and printouts.
Feature & Benefit :

A new checkbox within the Address Formats – Setup window allows the hiding of empty address lines
When selected, ship-to and bill-to addresses in future marketing documents appears without empty lines
This setting also applies to print layouts for marketing documents defined in Crystal Reports – i.e. empty lines in addresses will also be hidden in the printed documents
Enhanced formatting of the printed, previewed, or PDF document
Easier readability for users within marketing document forms, especially when address format consists of multiple components

ADD BUTTON EXTENDED IN MARKETING DOCUMENTS

The Add button in sales and purchase document creation is enhanced.
Feature & Benefit :

Additionally to the previous common behavior (i.e. after creating and adding a document, the window closes and a new window opens), the following options are now available:

Add & New: Document is added and a new window opens
Add & View: Document is added and is displayed
Add & Close: Document is added and the window closes

The user's last choice will be remembered for the given document for the next time
More flexibility in document creation and better handling for users
ENHANCED OPEN ITEM LIST REPORT

You can now view some document information in the Open Items List report. They are not visible by default, and you need to make them visible in the Form Settings window.
Features & Benefits :

The Open Items List report includes more document information: Owner, Sales Employee/Buyer, Remarks,  Approved, Created by, Contact Person, Payment Terms, BP Project, User-defined fields (UDFs) in document headers
The report offers the possibility to close and cancel multiple documents. This feature is supported for these document types: Sales Quotation, Sales Order, Purchase Request, Purchase Quotation, Purchase Order
In the report, multiple Return Requests and Goods Return Request documents can be closed
Easier handling due to more document options and information in one report

EU PEPPOL E-INVOICING

Feature & Benefit :

International electronic invoicing platform with a set of rules and specifications that enables electronic communications with any European government institution for procurement processes.
Electronic documents are sent and received through registered service providers
Due to own specific electronic invoicing functionality, the following localizations don't support PEPPOL at that time: Argentina, Brazil, Costa Rica, Guatemala, India, and Mexico
Creation and import of documents in electronic format
OTHER ENHANCEMENT IN PURCHASING – SALES – SERVICES

Feature & Benefit :

Editing UDFs in Document Rows After the Document was Added or Closed.
A new setting in the Document Settings "Allow Update of User-Defined Fields When Document Rows Are Not Editable" gives the possibility to make UDFs editable independently of the document/row status. New authorization controls the user's ability to edit UDFs on marketing document rows.
Display Business Partner Address UDF with Marketing Document Address User Defined Fields.
Business Partners – Addresses UDFs can be viewed and updated in

Address Component window on Logistics tab in marketing documents
Address Component window on Business Partner tab of Service Calls
Address Formats – Setup window

Create QR Codes.
QR (Quick Response) codes can be created on print layouts of marketing documents. New field Create QR Code From is available in the Accounting tab of marketing documents. API service and a free open source library are available for partners to create QR codes.
Adding Multiple Business Partners to One Equipment Card.
Multiple business partners can be added to an equipment card.
Updating Group Number.
Group No. on purchase quotations can be changed to the next sequential number in the predefined series.
Information about the other updates, you can find it in :

Learn from PT. BANDO INDONESIA on how they Use SAP HANA database to support their SAP Business One ERP.
Click HERE for More information about How SAP Business One version HANA, leverage the SAP HANA powerful database in real-life business ERP application with us PT. Sterling Tulus Cemerlang as SAP Gold Partner in Indonesia.
Also read:
Most Viewed Posts