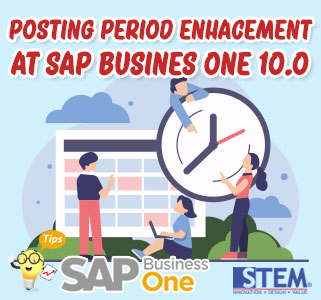 Now at SAP Business One version 10, there are features enhancement in Posting Periods Menu.
Here the list of new feature and example:
The Sorting of Column is now possible within the Posting Period form.
Filtering is now also possible within Posting Period form
The Find Fields is available, which allows the user for quick free-text searching
A new checkbox added to the Posting Period window, which we can define the default " Due Date To" to be set when creating a new posting period. (For example, the default Set end of February, when It is updated and create New Period field in "Due Date To" automatically Set to end of February in the Next Financial Year)
As for the new feature above in Version SAP B1 version 10, it sure gives the user benefits to simplifies the creation of a new posting period and Enhanced usability of the Posting Period Table, highly significant especially for business with a long list of posting periods.
Also read:
Most Viewed Posts