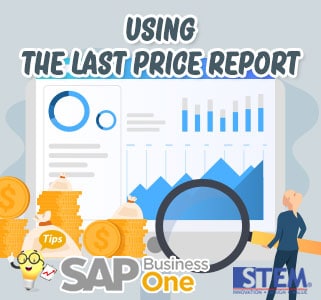 Last Prices Report in SAP B1 is used to view the last selling price/purchase price of a particular item. Usually used by Sales or Purchasing to make it faster to process sales/purchases and use the latest prices in force. There are 2 ways to view the Last Price Report:
The 1st way is:
Through the Inventory Menu > Inventory Reports > Last Price Report.
If you want to choose based on the sale/purchase process, please untick the BP Code checkbox.
The appearance will change as follows:

Based on sales/customers. The document checkbox shown is a Sales document
Or
Based on purchase/vendor. The document checkbox shown is a Purchase document
The 2nd way is: Through marketing documents such as Purchase Orders or Sales Quotations.
Open one of the Purchase Order documents.
In the Content tab, select an item and point the cursor in the Unit Price column.
Right-click on the Unit Price column and select Last Prices.
The system will display the Last Prices Report for the designated item, without the need to enter the selection criteria again.
Besides using right click on the mouse, you can also press Ctrl + Tab on your keyboard. The result is the same, the system will display the Last Prices Report from the designated item.
Also read:
Most Viewed Posts