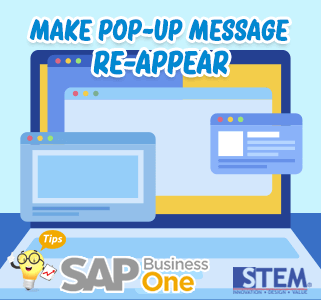 SHARE ON


SAP Indonesia Tips – Have you ever accidentally tick the checkbox on a pop-up message that appear during system operation in SAP Business One? Usually the pop-ups are to notify users that some changes has been made in some field. What happens when you tick the checkbox, is that for the next document, the pop-up won't  appear anymore . Here is the example of the pop up message :
If you want to bring back the pop up message, you can check it from the following menu :
Administration > Setup > General > Message Preferences.
You can choose by the Form name then remove it to make the pop up message appear again.
Most Viewed Posts