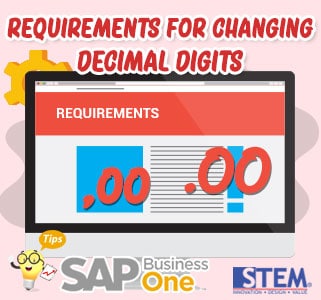 In the previous article, it was discussed that you can adjust the display of digit decimal in SAP Business One according to company needs. But, over time, the company may experience changes so that the company's needs change or the previous settings still don't suit your needs.
Relax, you can still change the digit decimal in SAP Business One, but of course there are conditions that must be met. What are the conditions?
If there are no transactions that form a Journal Entry,
You can increase/decrease the Decimal Digits
If there is a transaction that forms a Journal Entry,
You can only add Decimal Digits. You will not be able to reduce the Decimal Digits anymore, except for the Decimal in Query group you can still reduce the Decimal Digits.
No user currently logged in while you are changing the Decimal Digits
If someone is still logged in, you will get the following error message "Cannot update while another user is connected". You can also read the article "How to Know which Users Access SAP Business One"
Those are the requirements for changing the Decimal Digits in SAP Business One. Hopefully, this article is useful for you.
Most Viewed Posts