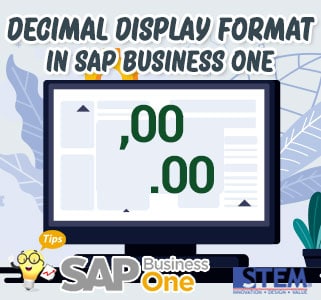 Every company, of course, has different needs in presenting data / reports. In SAP Business One, you can adjust the decimal display according to your company's needs.
This decimal display setting can be done in the General Settings Menu, namely:
"Administration > System Initialization > General Settings", then open the Display Tab.
In the Decimal Places section, you can set the Decimal Digits according to the following groups:
Amount: Value / Nominal
Prices: Prices
Rates: Exchange rates
Quantities: Quantities
Percent: Percentage
Units: Units, such as Volume, Length, Width, Height
Decimal in Query: Calculated Numbers in Query
You can also set punctuation for:
Decimal Separator: Decimal Separator
Thousand Sep. : Thousands Separator
Do you use periods or commas?
We recommend that before you make a transaction on SAP Business One, set it up and make sure that the settings are in accordance with the needs of your company, because this display will also affect the calculations and numbers stored in the database.
Most Viewed Posts