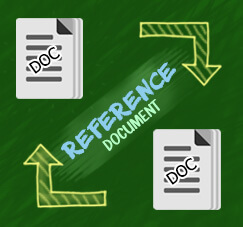 With a lot of enhancement on 9.2 version, now it's possible to link your cross-module marketing document, such as your Sales Order and Purchase Order. It's called Referenced Document feature.
For a better understanding, let's discuss with this case:
Your company want to make Sales Order document for specific customer

You need to contact another Cargo Service Company to deliver your item to customer
Then, you need to create Purchase Order for the procurement of cargo delivery, parallel with your Sales Order document.

With this new feature on 9.2, you can easily make a connection between your Sales Order and Purchase Order document.

Before adding the document, please go to Accounting Tab, click Referenced Document button
Choose Transaction Type "Sales Order", then select your Sales order document, click Choose.
On Reference Information window, just click Update button
Finally, Add your Purchase Order with click button Add
By accessing the Relationship map feature, a new option is now available for selection "Marketing Document: Referenced Documents".
Also read:
With this "Referenced Document" feature, now you can easily view and track your marketing document, even it comes from different modules.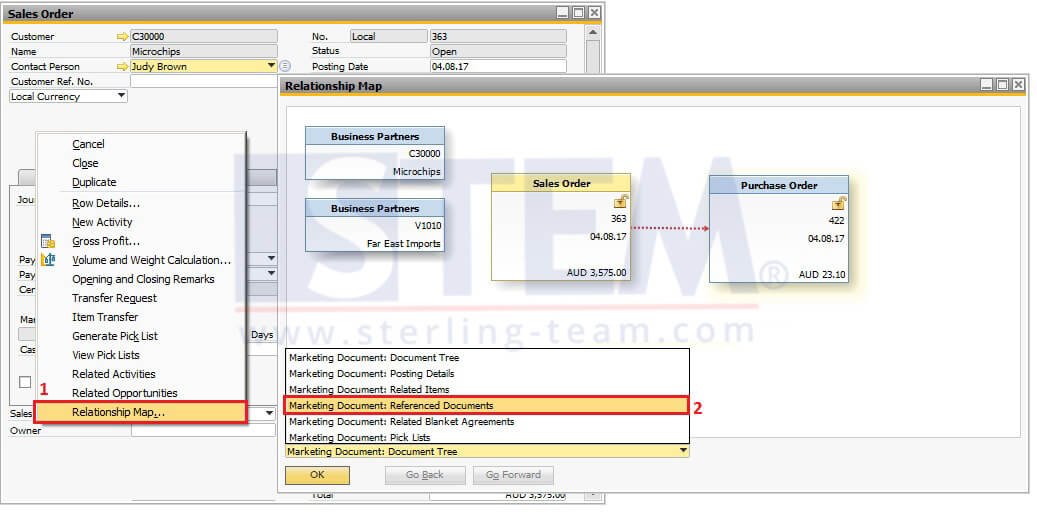 On a picture above, the relationship between the two documents can be seen through the dashed line in red, at one end there is an arrow indicating where the reference was made, on the opposite side of the red arrow you can see the referenced document.
Another useful information:
Referenced Document consists of two tabs:

Documents Referenced To – to specify documents to be referenced by the document
Example:
Document Referenced By – to see which other documents are referencing the document
Example:

Documents can be referenced includes External Document which does not represent a business object created by SAP Business One:
Sales Quotation, Sales Order, Delivery Notes, Return, Down Payment Incoming, A/R Invoice, A/R Credit Memo, A/R Correction Invoice, Purchase Quotation, Purchase Order, Goods Receipt PO, Goods Return, Down Payment Outgoing, A/P Invoice, A/P Credit Memo, A/P Correction Invoice, External Documents.
There is no restriction on the document type or Business Partner when documents are being selected for reference, however authorizations for the documents are taken into the consideration.
"Copy to" functionality does not copy the links as they are specific for each document. NOTES:
Only available on SAP Business One version 9.2 Patch Level 02 and above.
Also read:
Most Viewed Posts