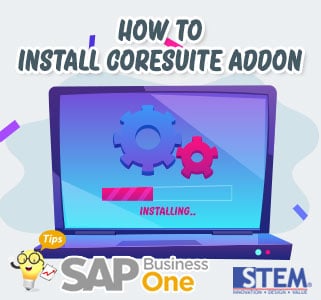 If you want to install Add-Ons developed by software service providers (SSPs), there are several conditions that must be met:
You must have Superuser Authorization on SAP Business One
You must have a .sip format file
An explanation of the steps in installing/upgrading AddOn Coresuite on SAP Business One:
Go to the Administration Menu in the following Menu Path Administration > Add-Ons > Coresuite Administration > Administration.
Go to the Global Module Configuration tab.
Check AddOn Version before Update, for example, PDT Management Add-On.
Return to the Sip Management tab.

Click … Button on the Footer.
Select the updated AddOn File Example PDT AddOn.sip, then click Import.
In this stage, if the selected AddOn file has the same or below version already installed, a warning message will appear that the installed AddOn has a more updated version.
When you click Import, then in the Sip Management tab, a list of addons that will be installed will appear, the following displays before and after clicking the Import button.
Before Import
After Import
Click the Update AddOn Name then click the Install Button.
After the Install process is complete, go to Path Administration menu > Add-Ons > Add-On Manager.
Restart the AddOn CoreSuite by clicking the AddOn Name > click Disconnect > click the Start.
Then check again the PDT Management AddOn version. In the Path Administration menu > Administration.
on the Global Module Configuration tab, if it is successful, the AddOn version will change.
Also read:
Most Viewed Posts