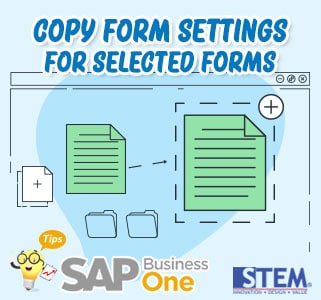 When you create a new user on SAP Business One, of course, you will set one by one what forms will be displayed to that user. But what if that user has a similar role to an existing user and wants to set up the same form to be implemented?
SAP Business One has a "Copy User Settings" function. This function allows you to apply options from a similar role user to apply additional preferences in one click.
Here's how to copy the Form Settings to a specific user:
On the SAP Business One main menu, select Administration menu > Setup > General > Users.
Determine the user who will copy the Form Settings using the Find mode.
Press the Copy User Settings button.
The Copy Form Settings window will appear.
Select the target user to be applied to the form settings.
Press the Copy button > Update.
Form Settings have been copied successfully.
Note: Available in SAP Business One 10.0 FP 2102 and SAP Business One 10.0 FP 2102, version for SAP HANA
Also read:
Most Viewed Posts