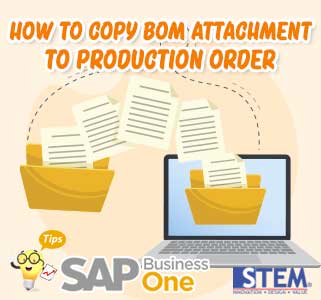 If your company is a manufacturing company and manages production processes, you know that every important detail and every step of the production process must be followed accurately. To improve the flow of the production process and enable better tracking of data, SAP Business One has a function to allow you to specify whether to copy attachments from Bill of Materials to Production Orders or not.
In order to be able to copy attachments from the BOM to the Production Order, follow these steps:
On the SAP Business One Main menu, select the Administration → System Initialization → Document Settings menu.
Select the General tab.
Check Copy Attachments from BOM to Production Order.
Press the button .
System-wise, this option is not selected. When selected, attachments from the original Bill of Materials will be copied to the Production Order.
When selected, the 'Copy to Production Order' checkbox on the 'Attachment' tab of the Bill of Materials window is selected by default, but can be deselected as needed.
Results:
*Note: Available in the Web Client for SAP Business One 10.0 FP 2111 and SAP Business One 10.0, version for SAP HANA FP 2111.
Also read:
Most Viewed Posts