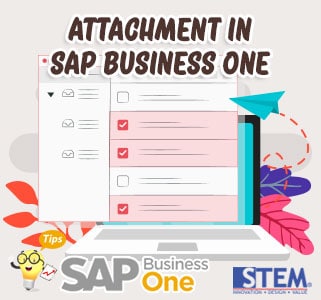 Sometimes, when we input transaction data into SAP Business One, we also need to attach other documents or files to the system.
To increase productivity and enhance the business activity, SAP Business One has one feature to attach that other document.
Attachments document can be added to these transactions:
Marketing Document,
Opening Balance,
Inventory Counting,
Inventory Posting,
Incoming Payment,
Outgoing Payment,
Check for Payments,
Deposit,
Journal Entry,
Production Order,
Time Sheet,
And the others.
To attach a file, you must define where the attachment directory saved.
In the SAP Business One main menu, select the Administration menu > System Initialization > General Settings > tab Path
Define the Export Word and Excel File To.
Specify the directory where you want to save attachments.
Press the  button to save the data
On the transaction to which the document is attached > select the Attachment tab
Press the  button to add the attachment
Select the documents to attach
You can attach any documents that you need.
Also read:
Most Viewed Posts