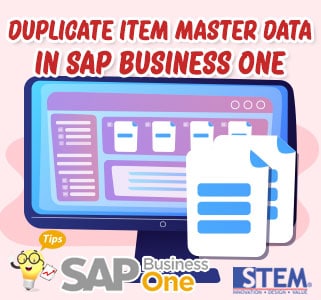 When a company has a new item, of course, they have to enter the item data into the Item Master Data in SAP. What if you want to fill in the data in Item Master Data for an item with a different name but has the same category? It would be very inconvenient if you have to retype.
In SAP, it is possible to duplicate an existing Item Master as a template so that the user does not have to fill in all the data from scratch. For example, a new item Raw Material B has the same data category as Raw Material A. Then the item Raw Material A can be duplicated and you just change the item description to Raw Material B.
To duplicate a master data item, follow these steps:
On the SAP Business One main menu, select Inventory > Item Master Data.
When the Item Master data window appears, make sure it is in Find mode.
Find the item to be duplicated.
right-click on the context menu, then select duplicate.
Enter a description of the new item that has not been registered in the Item Master Data.
Click , then the new item is registered in the Item Master Data.
Also read:
Most Viewed Posts