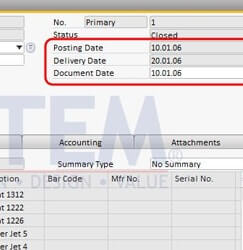 For transactional recording needs, SAP Business One provides 3 different dates:
Posting Date.
This date is use to post the transaction journal to general ledger. For example, when we create Delivery for items, the document will create a journal entry at posting date that will affect Inventory GL Account and COGS GL Account.
Document Date.
This date is use as information when the document was created. In A/P Invoice, you can use this date to record when the invoice was originally created / sent by the vendor.
Due Date.
In Sales Order and Purchase Order, this date will be shown as delivery date, used to indicate the delivery time. But in Invoice documents, this date is use to indicate the payment due date.
Copyright © PT Sterling Tulus Cemerlang – 2017
Also read:
Most Viewed Posts