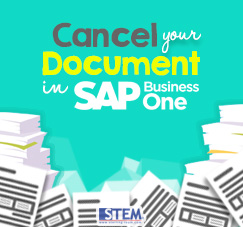 Are you making a mistakes in a document and want to cancel it? Don't worry about it. After SAP Business One 9.0, SAP Business One allows you to cancel marketing document.
In order to use this feature, you need full authorization for canceling documents. And still within the time range allowed for cancellation after posting the document.  Contact your System Administrator to see if you have authorizations
It's really simple to cancel the documents. Just find the document you want to cancel, right click, and choose the "Cancel" or you can choose "Data" in menu bar and choose "Cancel".
There are two cancellation types. The first type of cancellations does not generate new documents. But will change the document status into "Cancelled".

The relevant document are listed below:
Sales Document:

Sales Quotation
Sales Order
A/R Down Payment Request

Purchasing Document:

Purchase Request
Purchase Quotation
Purchase Order
A/P Down Payment Request
But, the second type of cancellations generate cancellation documents.  The cancellation document appears with the title (Document Name)– Cancellation.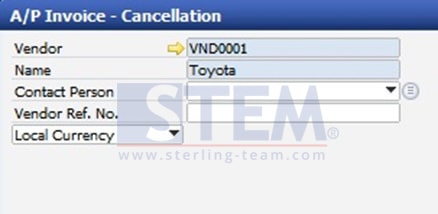 The relevant document are listed below:
Sales Document:

Delivery
Return
A/R Invoice
A/R Credit Memo
A/R Reserve Invoice

Purchasing Document:

Goods Receipt PO
Goods Return
A/P Invoice
A/P Credit Memo
A/P Reserve Invoice
Note that, there are some documents that can't be canceled such as A/R or A/P Down Payment Invoice and Landed costs documents. But, for landed cost documents,  you can manage perpetual inventory, and  achieve the same result of clearing by creating a new landed costs document fully based on the old one.
In addition to fit your businesses, you can define the time range and  decide whether to put the cancellation documents into reports or not. These settings can be done in Main Menu: Administration -> System Initialization -> Document Settings -> General tab.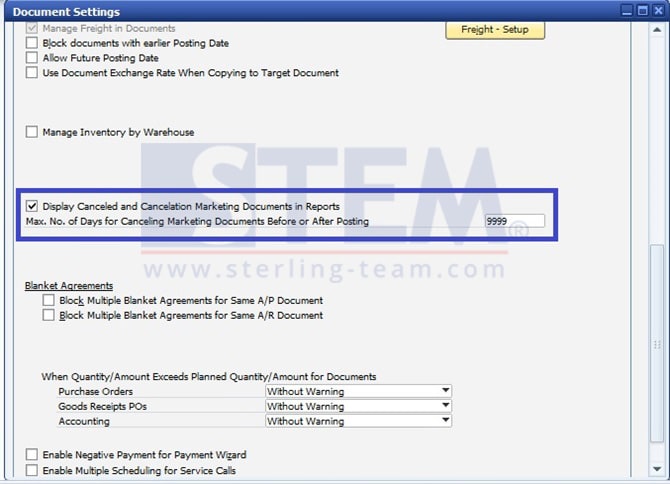 Most Viewed Posts