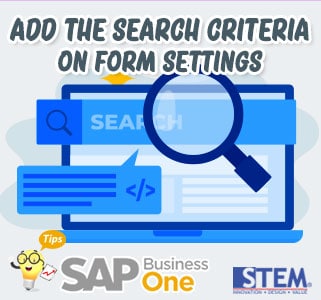 In SAP Business One, it allows you to set or add additional Search Criteria to help and make it easier for you to find a list that appears. These settings are made in the Form Settings menu.
As an example, we will create a Purchase Order document and select a Vendor based on the Business Partner List. Follow these steps:
On the SAP Business One main menu, enter the transaction (Example Purchase Order)
Then select a vendor by pressing or pressing Ctrl + Tab
The list of Business Partners will appear
When the "List Of Item" window appears, we can see the BP code and BP name. To add new criteria/information fields, on the menu bar select "Form Settings"

The "List of – Settings" window will open. In that section, we can add new criteria in the available blank rows
To add new criteria, click the drop-down list, then select the appropriate criteria.
Click the button.
Click OK.
Then, try reopening the List of Business Partners.
The criteria that appear will match with the criteria that were edited before.
Also read:
Most Viewed Posts