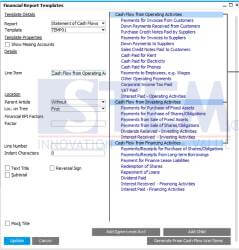 As we know, SAP Business One already provide us a standardize template Statement of Cash Flow. And, you can easily create new line item that consist of some formula.  But, this formula only can work with line items, not for other function or selected queries.
For example, we can use standard "Statement of Cash Flow" template from SAP that consist of 3 line item header: Cash Flow from Operating Activities, Cash Flow from Investing Activities, Cash Flow from Financing Activities.
From this menu Main Menu à Financial à Financial Report Templates, you can easily generate a report templates for "Statement of Cash Flow".
This is how to do it :
Choose Report : Statement of Cash Flow

Choose Template : Defined New
Add New Template – In this example, we give the template name : TEMP01


Click on buton Update
Click on button Generate From Cash Flow Line Items, and then click Update
After that, system automatically generate all cash flow line item into your new template.

You can easily edit/ add new line item with your own personal preferences.
For example, you want to add new line item "Other Payments – Local" and "Other Payments – Overseas" and another new Line items "Total Other Payments (Local & Overseas)" to Summarize this two new line items :
Click on Add Same-Level Account. Fill in the name of new line items, adjust the position and then click Update.
Tick a Subtotal field, click Formula, choose (+) or (-) and determine your own line item formula definition.

After finish it, just click on button Update  once again and your customized formula for Statement of Cash Flow is saved and can be use.
Also read:
Most Viewed Posts