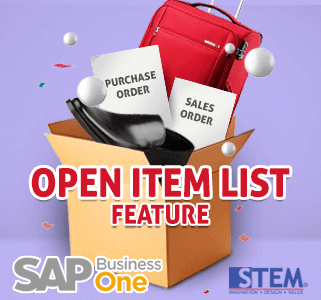 Need an easy way to find any open marketing documents on your SAP Business One? Like, when a goods may be delivered to a store or warehouse and you need to create Goods Receipt PO. You can use Open Items List to find the relevant purchase order quickly and easily. It's a perfect report for finding, monitoring, and managing open marketing documents such as open Sales Orders, open Purchase Orders, open Goods Receipt PO's, etc.
You can open the Open Items List by using search menu bar and type 'Open Item List' or go to:
Sales AR > Sales Reports > Open Items List
Purchasing AP > Purchasing Reports > Open Items List
Production > Production Reports > Open Items List
Then you can just choose the type of document you would like to show.
Not only open purchasing and open sales documents that you can choose, but also open production orders, inventory transfer requests and inventory counting documents, and so on.
Note:
Closed or cancelled documents do not appear in Open Items List.