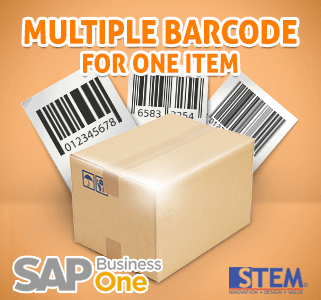 On SAP Business One, on one item, we can set multiple barcodes, even for the same item. This is how to input the barcode:
Open menu Inventory >Bar Codes
That will be showing up this screen like this:

For set the barcode, fill the item code that you want to create, and then click Find button. 


After that, you can see a item description on that list, include the Unit of Measure Group (UoM Group) and UoM Type.

So, choose on selected UoM that you want to fill with barcode information, for this example, we try to set the barcode for UoM "smallpack".
Input the barcode number on that screen (on the right side), and user can also input another useful information on Freetext column.

User can also input another barcode for that item on another row, in case you have a same item with multiple barcode ID.
Finally, click on Update button and your barcode details already set up and saved on system SAP Business One.